Preparing Your Touring Caravan for Winter Storage
Back
The nights are drawing in and the weather is cooling, Winter approaches and soon it will be time to embark upon the last trip of the season, if you haven't already done so. It will soon be time to Prepare the Caravan for Winter Storage.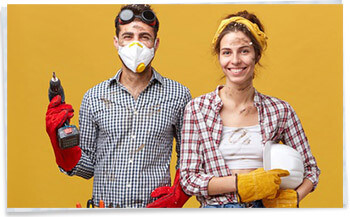 Is it me or has putting the caravan away for Winter Storage got a whole lot more complicated than it used to be? Maybe it's the expensive, high tech equipment found in the majority of caravans these days or perhaps there's more products available now that focus on Maintenance and Safe Caravan Storage. I think it's probably a combination of the two. Given the high cost of the average caravan it's no wonder caravanners are choosing to place more emphasis on keeping their caravans in tip top shape.
Whatever the reasons, in just a short while thousands of households up and down the country will feverishly be preparing their caravan for Winter hibernation. With this is mind, we thought we'd put together a simple guide with some Caravan Winter Storage Tips, to help new owners along with the process. If you think we may have missed something worth adding to this article please let us know via the Comments section below.
Why it's Important to Properly Prepare the Caravan for Winter
It's really tempting to do the bare minimum, put the caravan in storage and just forget about it until the following season. By contrast, imagine if you will lifting off your caravan cover in the spring, too reveal a highly polished exterior, complete with showroom quality interior, spotless appliances and a fresh clean smelling bathroom. Once your annual caravan service has been taken care of your virtually good to tow.
Choosing a Safe Location to Store your Caravan
Before exploring this subject further let's take a moment to highlight the importance of choosing a safe location to store your caravan during winter months.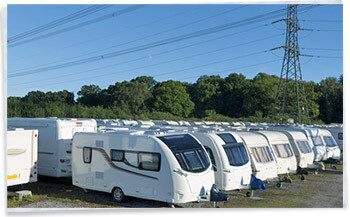 If you intend to entrust your caravan to a professional storage firm it is of course worth spending some time researching your options in detail. Try to get first hand testimonials from existing clients either when visiting the premises or by searching online. Of course security is absolutely key; how secure is the premises, is it manned by real people, do they have cameras installed and critically, what level of insurance does the company have in respect to any damage or the loss to your caravan? You should also check your own insurance policy in relation to storing your caravan with a third party?
Other points to consider might be, how easy and how quickly can you gain access to your caravan and how closely are caravans parked? If caravans are closely parked, it might be difficult for you or your neighbours to manoeuvre caravans out, without the risk of damaging surrounding caravans?
It may sound obvious, but make sure you remove all valuables such as TV's, radio units and other important possessions that could be easily stolen.
Caravan Security
Security is the natural consideration when deciding the safest location to store your caravan. Always check with your insurance company before purchasing security products, especially hitch locks and wheel clamps. It is important your security devices conform with standards of security determined by your policy.
Protect the Water System from Frost Damage
As ambient temperatures begin to drop the risk of frost damage becomes very real. To avoid frost damage to the caravan water system pipework, taps, fittings and costly water heater components, it is essential to completely drain the water system.
Start by opening all the taps, for mixer taps ensure the lever is in the central position to allow both hot and cold to drain. Leave the inside taps open to prevent pressure build up. Open all drain valves and remove drainage plugs. Remove the shower head and shake free of water. If you have an internal water tank make sure that it is fully drained. Remove your water filter to prevent damp and frost from damaging the unit. If you have an on-board pump, run it for a few minutes to clear it of water, most internal pumps can run dry for a minute or so, check your handbook for details.
Consider using a Floe Drainage Kit, this uses a compressor or foot pump (supplied separately from Floe Drainage Kit) to force the last drop of water out of the system preventing issues with stagnant or freezing water in your caravans plumbing system.
Drain thoroughly any water carriers and allow to dry, leaving caps off gives ventilation (but store away from the risk of bugs and insect entry). Keep caps safe, over a period of a few months small caps can easily go astray – or put them in a carrier bag and tie the handles of the bag to the carrier. Plug all water inlet and waste outlet points to prevent bugs and insects entering.
If you decide to leave water in the systems we recommend you apply One Chem Anti-Freeze for all year round protection of effluent tanks, grey water tanks and fresh water tank systems. This specially formulated solution from freeze-up and protects to -40 degrees, specially developed for caravans, motorhomes, boats and cars. Inhibits fouling and corrosion and provides lubrication to pumps.
TIP: When bringing the caravan back into service we recommend you flush the fresh water system with an anti-bacterial solution such as Puriclean to kill off any stubborn bacteria, algae and fungi that may be lurking. This will provide you with a healthy water system and clean up any water filters that may be still in service.
Water Heaters
It is extremely important to drain down your water heater. Carver Cascade water heaters have an air release screw located on the flue vent outside the caravan which you can unscrew to drain down. The Truma Ultrastore water heater is easily drained simply by lifting a yellow lever that is mounted near the appliance. With the Alde central heating system, drain down any fresh water as normal and check the anti-freeze level and strength. If a small top up of anti-freeze is required Alde G13 Premium Antifreeze 1litre with a 5 year life is ideal for topping up.
Carefully read the drain down instructions for your particular water heater as procedures vary a lot.
Consider the Benefits of Fitting a Breathable Caravan Cover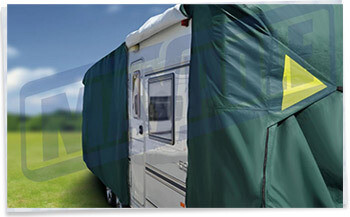 We feel that there are enough benefits and too many consequences to not fitting a Caravan Cover to leave it to chance. When putting your caravan into storage for the winter there is simply no way of predicting what might occur. Getting a good nights sleep is so much easier knowing you have done everything you possibly could to keep it safe, secure and protected. The benefits of buying a breathable caravan cover are there to be enjoyed all-year round, during winter months or for shorter periods of time as required.
READ MORE: 'ALL NEW' Maypole Premium Breathable Caravan Cover with *FREE Breathable Hitch Cover!
Fitting a Caravan Cover is the most effective way of protecting both the interior and exterior of the Caravan from an exhaustive list of harmful factors, responsible for prematurely ageing all Caravan surfaces. If you intend on storing your caravan with a professional storage firm, it may be a wise precaution to fit a Caravan Cover just in case...
Maypole Caravan Top Covers are a cheaper alterative to a full caravan cover and provide excellent protection to the top portion of your caravan during the winter. The Maypole Top Cover offers superior waterproof protection and prevents bird lime and tree sap from covering the caravan roof if it is stored near trees. Beware thought that top covers are not suitable if your caravan is likely to experience high winds.
Inspection and Protection of Bodywork
Whether you plan to use a caravan cover or plan on keeping your caravan dry stored undercover, a thorough cleaning of the bodywork is important to protect paintwork. If you are planning to fit a caravan cover, cleaning is essential to remove small particles of dust and dirt that could become trapped between the caravan body and the cover. In breezes/windy conditions these particles could easily scratch the surface of the caravan. Time spent cleaning the caravan gives the owner an intimate opportunity to spot any defects or potential problems one might not otherwise spotted.
Make sure that you use 'caravan friendly' cleaning and protective products that have been specially formulated for use on caravan surfaces. Power washers are great for getting rid of tough dirt but be aware that too much power could cause unintentional damage to bodywork and seals.
Fenwicks Caravan Cleaner and Fenwicks Bobby Dazzler are designed to leave your caravan with a superior finish and a dazzling shine, without the need to polish. Your caravan will also benefit from a protective coating that surrounds dirt and prevents it from sticking to the caravan body.
Fenwicks Overwintering is a fantastic solution that when applied to the bodywork forms a protective 'jacket' with unique properties, which actively repels water, dirt, algae growth and black streaks, without the need for a cover. The special coating has a long life designed to make cleaning in the Springtime much easier.
Tyre Care
Ideally tyres shouldn't be left standing flat on the same piece of tread for long periods, as they can begin to deform, weaken and crack. It's a good idea to turn wheels every 2-months. For a little over £10 you could purchase a pair of Fiamma Wheel Saver cradles or Milenco Stacka Tyre Savers, which have a curved surface that prevents the deforming of wheels. Better still why not consider removing the wheels altogether and keep the caravan on jacked and stabilised using the corner steadies.
Before placing the caravan in storage check tyre pressures (something that should be checked regularly) and adjust accordingly at intervals. To reduce degradation and increase the life of tyres consider fitting Caravan Wheel Covers such as those made by Maypole.
Exterior Inspection
Ideally, store your caravan with all corner steadies down and the handbrake off, to prevent it sticking. Apply grease to any moving mechanical parts or linkages, such as corner steadies rotating screws and spare wheel carrier.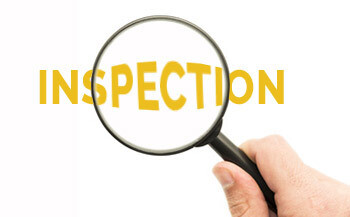 Check the car to caravan electrical connectors between car and caravan (7 pin 12N, 12S 7-pin plugs or 13-pin) for signs of damage or wear, and wipe electrical contacts with petroleum jelly or spray with a water dispersant such as WD-40. Check for any damage to road lights and inspect aluminium rails, seals and rubbers for leaks or evidence or cracking.
If you have been using your caravan late in the year it would be worthwhile washing and brushing down the chassis and caravan motor mover if fitted to clear off any road dirt, traffic film and corrosive road salt.
Remove gas cylinders and store them in a cool, ventilated place.
Preparing the Caravan Interior
Placing your caravan into storage will give you the perfect excuse to have a good spring clean. To avoid loosing your possessions in the event your caravan is broken into it's a good idea to remove all your belongings.
Although the contents of tinned food should keep over the winter, should you be unlucky enough to develop a little damp in your kitchen cupboard, rust rings from the bottom of tin cans are unsightly and damaging.
Give the caravan floors and carpets a vacuum to keep them clean and tidy. Remove all cushions and upholstery and store somewhere dry or stand all the cushions on-end ,away from caravan walls where air can circulate all around them and prevent mildew occurring. Bedding and pillows should be removed for the winter.
Make sure all rooflights and windows are fully closed and locked. For caravan window and rooflight blinds with any kind of spring mechanism, its best to leave them open, to save the springs from gradually being stretched over a period of time resulting in them failing to work efficiently. To aid air circulation leave locker and wardrobe doors open, fixed beds are also best left in the open position, as well as keeping the fridge door ajar using the latches so that air can circulate, preventing mildew build-up. Leaving a few dehumidifiers or moisture traps such as the Kampa Damp Buster or Kontrol Streamline Moisture Trap in the caravan will help keep unwanted moisture and condensation under control and gives protection against damp musty odours and mildew. These can be checked and renewed if necessary when you check your caravan periodically.
Cleaning your Toilet
The cassette toilet should be thoroughly drained and cleaned to maintain hygiene and keep your caravan smelling fresh and welcoming. We recommend you thoroughly clean the cassette using Thetford Cassette Tank Cleaner, which is great for removing stubborn calcium deposits. Lubricate the toilet seals with the specially formulated Thetford Seal Lubricant spray which coats and protects toilet seals ensuring pliability, totally safe for use on plastics unlike other DIY store lubricants. When you put back the cassette holding tank it's a good idea to leave the blade open to prevent it sticking in place.
Leisure Battery
Unless it's connected to your caravan alarm system, the 12v leisure battery should be removed, wiped over, the terminals cleaned and topped up with distilled water if necessary. To keep the battery in good condition to then trickle charge from the mains until you obtain a reading of 12.6v on a voltmeter or 1.27 on a hydrometer. Store the battery in a cool, dry place and check the state every 6-8 weeks. Top up the charge as required.
Remove batteries from battery operated clocks, smoke detectors etc., as well. Oh, and don't forget to test your alarm is working before you close the door on the season.
No matter where you store your caravan there are lots of things you can do to ensure that everything is in good working order when you bring it back into service the following springtime. A little preparation now can save problems from occurring and sometimes considerable expense.
Comments
Be the first to comment on this article